Spain's Urdangarin escapes jail pending appeal
Comments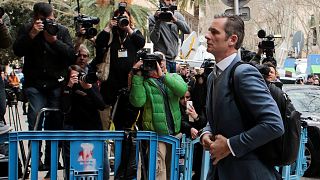 A Spanish court has decided not to send the King of Spain's brother-in-law to prison while he awaits the outcome of an appeal against a six-year-sentence for charges including tax fraud and money laundering.
Inaki Urdangarin was found guilty on Friday of using his royal connections to overcharge regional governments through public contracts to stage sports and tourist events.
He was also charged with tax fraud.
Spain's El Mundo reported that he used a low budget airline to fly from his home in Switzerland to Majorca for Thursday's hearing.
The appeal
Under Spanish law, Urdangarin can appeal the sentence of the provincial Mallorcan court through the Supreme Court.
The Mallorcan court is the highest judicial authority in the region where the crimes took place.
However, the sentence is not definitive until the Supreme Court in Madrid has backed it up.
"Thief!"
Yes.
The nation has been gripped by the trial and the six-year investigation leading up to it.
Many in Spain are sickened by a string of graft scandals at the highest levels of Spanish society while ordinary people endure spending cuts and high unemployment.
The case is one of many unrelated high-profile corruption investigations currently going through the Spanish courts involving the rich and powerful, including bankers and politicians.
Crowds shouted "thief!" as he entered and left the court on Thursday.
How long could the appeal take?
Months, or even years.
While the Supreme Court is deliberating, Urdangarin must register once a month in Geneva.
He lives in the Swiss city with Princess Cristina and their four children.
He must inform the court of any change in residence or travel plans outside the EU during that time.
Wasn't Princess Cristina involved in the case as well?
Yes.
She was acquitted of being an accessory to tax fraud.
It is the first time a member of the Spanish royal family appeared in the dock at a criminal trial.