Germany unveils new passport design
Comments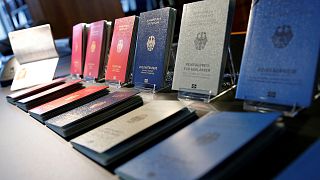 Germany has unveiled the new design of its national passport.
The new identity document, which features a security mark in the shape of Berlin's Brandenburg Gate, was shown for the first
time on Thursday.
What they are saying
"The new German passport reliably protects against forgery and misuse and makes it possible for all passport holders to identify themselves quickly across the whole world," said Interior Minister Thomas de Maiziere.
"The newer your passport is, the more likely it is that you can travel without a visa."
"With that, the passports form the basis for being recognised more quickly at national borders."
Additional information
Makes visa-free travel possible to more than 170 countries
Made of polycarbonate
Title page has personalised security thread containing the holder's name and the document's number
Transparent lens holds personalised information
The updated version will be issued from March 1, 2017.
Will the old version still be valid?
Yes.
The Interior Ministry says all current passports will remain valid until their respective expiry dates.