Explained: The bribery scandal engulfing Brazilian construction giant Odebrecht and Latin American governments
Comments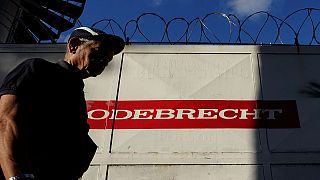 A multi-million euro bribery scandal involving Brazil's largest engineering company is spreading through South America.
Authorities in the region have launched a string of new and complex investigations in to government officials, proving the scandal is far from over.
It comes after Odebrecht admitted to paying 750million euros in sweetners to officials in 12 different countries to secure lucrative contracts.
It has also agreed to hand over the results of its internal inquiry.
Prosecutors from 10 Latin American countries have committed to forming a task force which will allow them to easily share evidence during their investigations.
They are Brazil, Argentina, Chile, Colombia, Ecuador, Mexico, Peru, the Dominican Republic, Venezuela, Panama, and one European country, Portugal.
After pleading guilty in the United States, it has been told to pay 2.45 billion euros to authorities in Brazil, the United States and Switzerland.
It comes after former chief executive Marcelo Odebrecht was last year sent to jail for 19 years over payments made to Brazil's state-run oil company Petrobras.
One of the latest investigations to be launched is in to former Peruvian prime minister Alejandro Toledo.
The politician has gone in to hiding since Peruvian prosecuters accused him of accepting 20million dollars in kickbacks during his premiership between 2001 and 2006.
Odebrecht has admitted paying $29m in bribes to Peurvian officials to secure contracts between 2005 and 2014.
Peruvian authorities have offered a reward of 30,000 dollars for information leading to his arrest.
He is among eight former government and company officials accused of being part of kickback schemes in Peru worth 60million in total. 
Judges in Argentina are also investigating whether President Mauricio Macri's spy chief, Gustavo Arribas, took a $600,000 bribe from Odebrecht in 2013 when he was a private citizen.
The company which continues to operate has previously insisted it will "not let this happen again".