Dakota pipeline protest runs out of fuel
Comments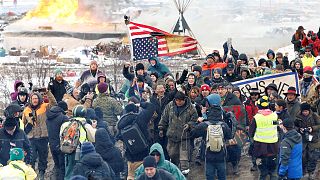 A long-running protest against an oil pipeline in North Dakota appears to be fizzling out. Only a few dozen demonstrators confronted riot police as they defied a deadline to end months of occupying an encampment on federal land.
Dakota Access Pipeline protesters had to meet a state-set deadline to leave today; some who stayed were arrested. https://t.co/Iq06X6Xz6hpic.twitter.com/KnBmgsvecp

—

NPR

(@NPR) February 23, 2017
Native Americans and environmental activists had claimed it posed a threat to water resources and sacred tribal sites.
In freezing rain some demonstrators ceremonially burned their tents before leaving the area.
The site had become a major focal point for US environmental activism and Native Americans expressing indigenous rights, with some 5,000 to 10,000 protesters inhabiting the camp at the height of the movement in early December.
Last month President Trump signed an executive order clearing the way of the pipeline to be completed.
Earlier this month a judge denied a request by two tribes seeking to halt pipeline construction. The pipeline is now due to be completed and ready for oil between March 6 and April 1.