Wild Czech boars go nuclear eating mushrooms
Comments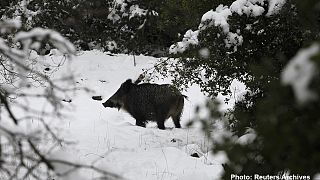 Wild boars in the Czech Republic and those who eat the local delicacy meat over the winter face a particularly unique and radiating problem – the boars are radioactive.
Ranged in the Sumava Mountains, a region shared by the Czech Republic, Austria and Germany, this winter's cold temperatures and snowy weather are forcing boars in the region to eat false truffles.
The underground mushrooms grows naturally in the area and they have the ability to absorb high quantities of the radioactive isotope Caesium 137.
The more the boars eat these mushrooms the more radioactive their meat becomes. Compounding the problem is the high concentration of Caesium 137 which in 1986 blanketed the area as a result of the Chernobyl nuclear disaster.
And the radioactive isotope could remain with the wild boars for some time.
Caesium 137 has a 30 year half-life, meaning it takes 30 years for half of the ingested quantity of the isotope to naturally erode, possibly contaminating a large section of the wild boar population.
Wild boar meat is popular in restaurants serving goulash, a thick meat stew with dumplings.
Radioactive meat is banned from circulation in the Czech Republic and every wild animal hunted is inspected before going to consumers.
Of the 614 animals inspected from 2014 to 2015, 47 percent were found above the radioactive limit.
"We can expect to find [radioactive] food for a number of years from now," Jiri Drapal at the Czech Republic's State Veterinary Administration, told Reuters.
But to get sick from these radioactive boars, Drapal said, one would have to eat large doses of contaminated meat several times a week for several months.