Over 600 migrants rescued from Mediterranean, taken to Sicily
Comments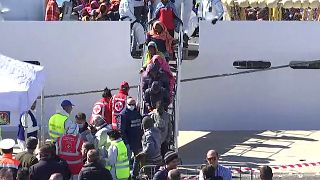 Some 70 women and children are among hundreds of migrants brought to the shores of Sicily after being rescued in the central Mediterranean Sea on Wednesday (February 22).
The Italian Coast Guard reports more than 600 people were saved after being discovered trying to reach Europe in a fishing boat and a rubber dinghy.
They were transferred onto the Italian Coast Guard's 'Dattilo' vessel, before being transported over to the port in Catania.