Jailed Kremlin critic Ildar Dadin's jail term quashed
Comments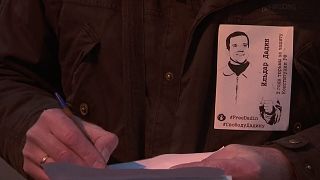 Russia's supreme court has overturned the conviction of jailed opposition activist Ildar Dadin and ordered his release.
The 34-year-old was sentenced to three years in prison – reduced to two and half years on appeal – in 2015 for breaking strict new laws banning demonstrations.
Dadin was jailed for a series of peaceful one-man protests against the Kremlin.
Last month, more than 40 activists were arrested in Moscow after they held a rally calling for his release. The protest came after Dadin said he had been subject to beatings by guards while in prison in north-west Russia.
Authorities refuted the activist's torture claims, though later moved him to another jail.
Wednesday judgement came after Russia's Constitutional Court ordered a review of Dadin's conviction earlier this month, arguing the law criminalising certain types of protest had to be applied more proportionately.