Should civil partnerships be available to straight couples too?
Comments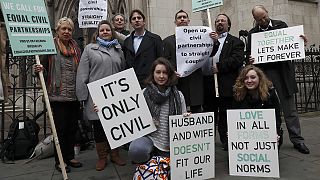 A heterosexual couple in Britain have lost a court bid aimed at allowing them to enter into a civil partnership.
Rebecca Steinfeld, 35, and her partner Charles Keidan, 40, object to the patriarchal nature of marriage and say the law discriminates against straight couples.
They want to be able to enter into a civil partnership, which were introduced in Britain in 2004 to give gay couples similar legal rights to those enjoyed by married heterosexuals.
---
Tell us your opinion
---
Belgium, France, Luxembourg, Malta and the Netherlands are the only countries in the EU who allow straight couples to enter into civil partnerships, according to the European Commission.
Steinfeld and Keidan say they have deep-rooted and genuine ideological objections to marriage based upon what they consider to be its historically patriarchal nature.
Last January, London's High Court rejected their claim saying the law specified that civil partnerships were only for people of the same sex, and on Tuesday that ruling was upheld by the Court of Appeal.
The judges accepted there was a potential breach of the couple's human rights but by a two-to-one majority said the government should be allowed more time to assess whether civil partnerships should be extended or perhaps even phased out.
"We lost so narrowly that there's everything to fight for," Steinfeld told reporters outside the court. "All three of the judges agreed that we were being treated differently because of our sexual orientation and that this impacts are family and private life."
Keidan said there were more than three million mixed-sex couple living together with two million dependent children.
"These couple lack legal and financial security and I think many would agree that this isn't right," he said. "None of us should be denied recognition or protection because marriage isn't right for us."
He said they would challenge the ruling in the Supreme Court, the highest judicial body in Britain, unless the government indicated it would change the existing law.