Greek strike shuts down Acropolis
Comments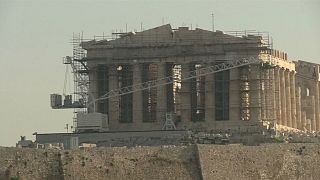 The Acropolis and other ancient sites throughout Greece were closed to the public after state guards called a strike over hiring and pay.
Monday's action came just as the government is under pressure from its creditors to agree on new spending cuts and reforms.
Tourists who came from all around the world to see the Parthenon were in for a major disappointment.
Strike closes #Acropolis, ancient sites in #Greece. dgatopoulos</a> <a href="https://twitter.com/TStavrak">TStavrakhttps://t.co/IoZTJ03j0M

— Elena Becatoros (@ElenaBec) February 20, 2017
A teacher from Germany, Ute, said she couldn't believe the site was closed.
"Especially we Germans now are really really angry about how they work here sometimes…. I don't understand why they are on strike," she said.
"I think we won't come back, because you never know what will happen here," she added, walking away with her students.
Tourists peered through the closed gates of the Acropolis to catch a glimpse of the marble columns and took photos from the bottom of the hill.
"It's kind of a once in a lifetime for us, I don't know when we'll be back, if ever. Yeah, pretty disappointed that we can't see it today," said Chris, an American tourist from Tennessee, on his last day in Greece.
The striking workers want more staff and overtime pay. A union representing them said it hoped the dispute would be resolved by the Easter holidays and the peak of the tourist season.