Somalia: Deadly car bomb rocks Mogadishu market
Comments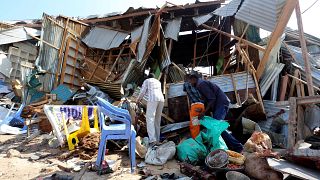 A car bomb attack on a market in the Somali capital, Mogadishu, left dozens dead and injured on Sunday.
The vehicle was driven by a suicide bomber, according to Ahmed Abdulle Afrax, the mayor of Wadajir district where the bombing happened.
There are conflicting reports about how many people were killed.
Some put the death toll at 39, with around 50 more hurt.
There was no immediate claim of responsibility but the clear suspect is Al Shabaab, the Islamist insurgent group fighting the UN-backed Somali government.
The bombing comes just days after the country elected a new president, Mohamed Abdullahi Mohamed, a former prime minister and dual US-Somali citizen.
How an American bureaucrat became president of Somalia https://t.co/tQyxC6AOzp via @POLITICOMagpic.twitter.com/03y2li3ifB

— POLITICO (@politico) 19 février 2017
Al Shabaab has been able to carry out deadly bombings despite losing most of its territory in the country to African Union peacekeepers supporting the government.
Affiliated with al Qaeda, it aims to impose its own strict version of Islam on the Horn of Africa state.