Parliamentary debate on Trump's state visit to UK nears
Comments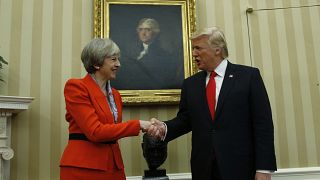 British Prime Minister Theresa May surprised many by inviting President Donald Trump on a state visit to Britain and was the first world leader to visit him in Washington.
On Monday that invitation will be debated in Britain's parliament and there's also a protest planned outside parliament.
Donald Trump protest: Thousands expected to march to Parliament Square as MPs debate s #Londonhttps://t.co/sjvmx8D981pic.twitter.com/QGt2bXpyKq

— londonuk (@london_uknews) February 19, 2017
The debate was triggered after more than one point eight million people signed a parliamentary petition urging the invitation to be withdrawn "because it would be an embarrassment to the Queen."
The leader of the House of Commons John Bercow also controversially ruled that Trump would not be allowed to address parliament.
Many MPs have also criticised the speed at which Trump has been accorded a state visit.
"Why is Donald Trump getting a state visit so early on, he has barely been president for a few weeks. Why are we giving him this privilege without seeing what he actually does as President of the United States," Tulip Siddiq, a Labour MP said.
But almost no politician is suggesting that Trump should not visit Britain.
"Of course he should be coming. He is the elected leader of our main ally. It is perfectly proper for us to deal with him. To hold him to a wholly different set of standards as we hold other world leaders to is frankly hypocritical," Crispin Blunt, a Conservative MP, and the chairman of the Foreign Affairs Committee in the Hose of Commons said.
In fact the Queen has had dictators to dinner, including Mobutu Sese Seko who plundered his country Zaire of almost all its wealth and who carried out many human rights violations against his critics.
Russian President Vladimir Putin, who is now openly hostile to the West, was welcomed on a state visit in 2003.
And autocratic Chinese President Xi Jinping visited in 2015.