Ecuador election could end a decade of left wing rule
Comments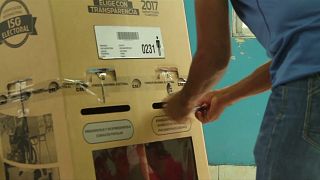 Ecuadoreans are voting in an election that could see the country turn its back on a decade of left-wing rule.
An ally of the current President Rafael Correa hopes to get enough votes to avoid a run-off with a conservative former banker.
Lenin Moreno, who is a former vice president, needs to get past 40 percent and gain a 10 percentage point lead over his nearest rival to avoid a second round.
Presidental candidate Lenin</a> Moreno casts his vote for today&#39;s general election in Ecuador. <a href="https://t.co/0CTpnNxMY0">pic.twitter.com/0CTpnNxMY0</a></p>&mdash; teleSUR English (telesurenglish) February 19, 2017
But if Moreno is forced into a second round, analysts expect the fractured opposition to support his rival Guillermo Lasso in response to an economic downturn and corruption scandals.
And if Lasso wins that would further bolster the right in South America, after Argentina, Brazil and Peru all shifted away from left wing rule in the past year and a half.
Lasso has campaigned on a platform to revive the economy, which is dependent on exports of oil, flowers, and shrimp, by slashing taxes, fostering foreign investment, and creating one million jobs.