Colombia peace deal: FARC rebels complete final march
Comments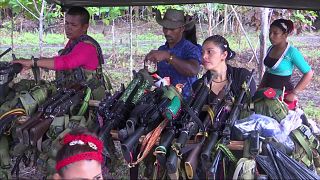 The last 300 members of Colombia's biggest rebel group, the FARC, have reached a transition zone to lay down their arms under an historic peace deal with the government.
It completes the transfer of nearly 7,000 FARC rebels after marathon journeys across jungle and mountains to rural, demobilisation camps nationwide where they will begin their return to civilian life.
United Nations personnel are responsible for collecting weapons from the guerrillas.
UN officials are also assisting Colombian authorities with special justice proceedings against rebels accused of crimes against humanity, as well as reintegration and victim reparation efforts.
Colombia's Farc rebels complete move to demobilisation zones https://t.co/jXcMDF5qet

— Colombia-ONU (@ColombiaONU) 19 février 2017
After more than half a century of fighting, an original peace accord was rejected by voters in a referendum but a revised agreement was signed with President Juan Manuel Santos on November 24.
Santos won the 2016 Nobel Peace Prize for his efforts to end the war with the FARC.
#NobelPrize@JuanManSantos for his efforts to bring Colombia's more than 50-year-long civil war to an end pic.twitter.com/CSUpBuzpI1

— The Nobel Prize (@NobelPrize) 17 février 2017
Colombia's conflict with guerrilla groups and paramilitaries has killed more than 220,000 people.
with Reuters