US Vice President Pence seeks to reassure Transatlantic allies
Comments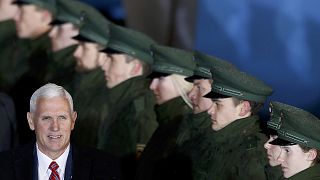 Addressing the Munich Security Conference on Saturday, US Vice President Mike Pence has sought to
assure allies that Donald Trump's administration will back NATO and stand with Europe.
But he also warned that partners must pay their fair share to support NATO, saying that their failure to do so "erodes the foundation of our alliance".
Thank you for joining us at #MSC2017, VP</a> Pence! <a href="https://twitter.com/hashtag/MSC17?src=hash">#MSC17</a> <a href="https://twitter.com/ischinger">ischingerpic.twitter.com/rnbkGoshXi

— Security Conference (@MunSecConf) 18 février 2017
Without mentioning the president by name, fellow Republican and prominent Trump critic John McCain earlier slammed the billionaire's world-view at the event, founded in 1963 by Ewald von Kleist.
"What would von Kleist's generation say if they saw our world today? I fear much about it would be all too familiar for them and they would be alarmed by it," McCain told the forum on Friday.
"They would be alarmed by an increasing turn away from universal values and toward old ties of blood and race and sectarianism."
But McCain urged the forum not to give up on the United States, adding: "These are dangerous times, but you should not count America out, and we should not count each other out."
"Make no mistake, my friends. You should not count #America out." - @SenJohnMcCain at #MSC2017 (full speech: https://t.co/dqDUGKz9BV) pic.twitter.com/C9sXP3VpjX

— Security Conference (@MunSecConf) 17 février 2017
US Defence Secratary Jim Mattis had already made clear to allies, both at NATO in Brussels and in Munich, that the US won't retreat from leadership as Europe grapples with an assertive Russia, wars in eastern and southern Mediterranean countries and Islamist terror attacks.
#SecDef Jim Mattis delivered remarks at #MSC2017 in #Munich today. Read more & watch his speech: https://t.co/I6pnMLKznxpic.twitter.com/KUOUiNIxzz

— U.S. Dept of Defense (@DeptofDefense) 18 février 2017
with Reuters