France rallies against police violence after alleged rape of detainee
Comments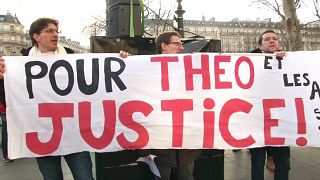 Thirteen people have been arrested and two police officers were lightly injured following a protest in Paris against police violence.
More white people are becoming aware that these situations are really true.

Former professional footballer
Rallies have taken place around France following the alleged rape and beating of a 22-year-old man while being arrested in the Parisian suburb of Aulnay-sous-Bois.
Over 200 people have been detained during days of demonstrations.
Video manif pour Theo pic.twitter.com/zAe5V7WkAK

— voleurs de mémoire (@Carrye1Sens) February 18, 2017
Far-right National Front leader Marine Le Pen called for the protests to be banned. However, other politicians and famous faces – such as ex-footballer Lilian Thuram – took part.
He told reporters:
"I know very well what can happen during a police check, because I was not born a football player. It's not insignificant if certain people are attacked, it's not insignificant that Theo is a black man. To me, what is really interesting is that I think more and more white people are becoming aware of the fact that these situations are really true. Your treatment depends on the colour of your skin."
Theo was in hospital for two weeks following the alleged incident. He claims to have been abused with a police baton after being stopped for an identity check.
One policeman has been placed under formal investigation for the suspected rape and three others for violent conduct.