Kazakh military helicopter stops to ask for directions
Comments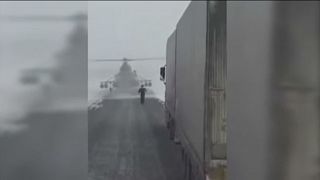 A lorry driver in Kazakhstan has captured the moment when a military helicopter landed on a highway, in order to ask for directions.
According to the Kazakh Ministry of Defence the crew were taking part in an exercise, ironically working on visual orientation, when they got lost.
The pilot is seen exiting the aircraft, and asking the driver of another lorry which direction the city of Aktobe is in.
The two truck drivers can be heard discussing the request on their radios, much to their amusement.
The pilot then returns to the Mi-8 chopper, before taking off and proceeding, presumably, in the correct direction.