Tillerson and Lavrov hold first meeting in Bonn
Comments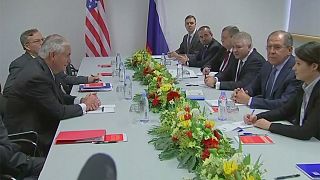 Russia does not ''interfere in the domestic matters'' of other countries, Sergei Lavrov said on Thursday.
The Russian foreign minister's comments came at the start of his first meeting with US Secretary of State Rex Tillerson on the margins of a G20 meeting in Bonn.
President Trump has called for better relations with the Kremlin and Tillerson and Lavrov's talks are the highest face-to-face discussions between Washington and Moscow since the new US administration took charge.
Addressing sanctions taken against Moscow Lavrov also said: "We do not discuss sanctions. We assume that this is an anomaly and that those who are imposing sanctions have to evaluate their effectiveness and decide whether they are in line with the normal relations between countries and if artificial attempts to politicise certain issues correspond to their international interests."
After their meeting Tillerson called on Russia to abide by the Minsk peace deal in Ukraine. He also said the US would only cooperate practically with Moscow if it was in its interest to do so.
"Where we do not see eye-to-eye, the United States will stand up for the interests and values of America and her allies. As we search for new common ground, we expect Russia to honor its commitment to the Minsk agreements and work to de-escalate the violence in the Ukraine,'' Tillerson said.
In addition to his discussions with Lavrov, Tillerson also held talks with the UK's Boris Johnson and Gulf leaders at the G20 foreign ministers meeting in Germany.
For the moment no date has been set for a meeting between the US and Russian presidents', but Lavrov said he assumed one would take place.