Floor lighting at pedestrian road crossing could prevent phone 'zombies' wandering into traffic
Comments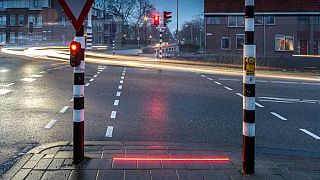 Councils across the world have taken action against zombie phone addicts, installing pavement-level traffic-lights to prevent social media-addicted pedestrians absentmindedly wandering into the road.
"Videos of phone users":https://www.thesun.co.uk/video/living/mobile-phone-addict-is-so-focused-on-her-screen-she-walks-into-a-nasty-surprise/ so intently focussed on checking texts, scrolling their Facebook feed, or catching imaginary monsters on Pokemon Go that they don't notice the fast-approaching pond until it's too late have long been a source of mirth for the unforgiving social media community.
But for some smartphone addicts, the inability to put down their mobile presents far more of a health hazard than mere public embarrassment.
To combat the fast-growing epidemic of so-called "petextrians", the Dutch town of Bodegraven in the western Netherlands has installed lights that shine upwards at pedestrian crossings, aimed at those for whom Candy Crush is so important that oncoming traffic doesn't register.
Special traffic lights in #Bodegraven for those who can't look up from their #smartphonehttps://t.co/0msuifpth0pic.twitter.com/9bUDthiw0f

— IamExpat (@IamExpat) 16 February 2017
Strips of LEDs connected to existing traffic lights have been installed at the pavement edge and change colour at the same time as their eye-level counterparts.
This is the first trial of its kind at road crossings in Europe.
But the idea is also in it's testing phase on the other side of the globe.
In Sydney, Australia – where it has been installed at one city centre crossing – there is growing interest in the technology.
Last year, after the death of a 15-year-old girl who was killed by a tram while looking at her phone and wearing headphones, the town of Augsburg in Germany installed a set of cats-eye style lights at crossings. They flash red when a tram is approaching.
City Launches Traffic Lights for Downward-Looking #Smartphone Users #Augsburg#Germanyhttps://t.co/tN43oJi71xpic.twitter.com/K8xLjWYTu4

— German Trends (@Germanolizer) 28 April 2016
Other attempts to protect pedestrians from themselves have been trialled in Chongqing, China and Antwerp in Belgium where local authorities have trialled "cell-phone lanes" to prevent phone-addicts from irritating other pedestrians.
In some American cities, talking buses have been introduced in order to increase pedestrian safety.
A growing problem
A significant spike in pedestrians stepping out into the road while distracted by technology has been noted by motorists.
In 2016, research from the UK's Automobile Association found that close to 75 percent of British drivers "often" saw pedestrians step into the road while staring at their phones.
Kees Oskam, a member of the Bodegraven council, told the Dutch press: "People are increasingly distracted by the smartphone. The attraction of social media, games, WhatsApp and music is great and comes at the expense of attention to traffic. As a government, we can not easily reverse this trend, but we can anticipate it."
However, some are concerned that the installation of these lights may encourage dangerous behaviour.
Lights are not the only indicator of whether it is safe to cross a road.
A pedestrian must also check both ways for traffic before crossing as light signals are not an adequate way to gauge motorists' behaviour.