Dozens killed and injured in Sadr City bombing
Comments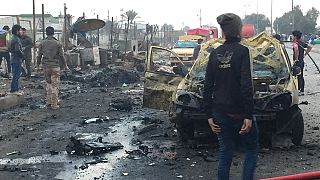 A suicide bomber detonated a pick-up truck in Sadr City, a heavily-populated and poor Shi'ite suburb of Baghdad.
The explosion is the deadliest in Baghdad so far this year.
It happened in a crowded street full of garages and used car dealers in the Habibya neighbourhood in the north of the Iraqi capital.
Was anyone killed?
Yes.
At least 15 people were killed outright. 50 more were wounded.
Has anyone admitted planting the bomb?
There were no immediate claims of responsibility, no.
However, ISIL has stepped up bombings in Iraq in the last year.
Analysts say this is in retaliation for a US-backed campaign that dislodged the hardline Sunni group from most Iraqi cities it took over in 2014.
The militants also control part of neighbouring Syria.
In tweets
Dozens killed and wounded in Sadr City truck bombing https://t.co/u0tu5mEkH9pic.twitter.com/ZRTfTJXJsb

— Middle East Eye (@MiddleEastEye) February 15, 2017
Car bombing kills 15 in Baghdad's Sadr City https://t.co/804SvZiMKgpic.twitter.com/3BwvWVe0t1

— Nigeria Trend News (@nigeriatrend) February 15, 2017
Baghdad blast 'kills 18' in Shia district of Sadr City https://t.co/RNBvEoISdcpic.twitter.com/X6RHpjhnlB

— OneNewsSource (@OneNewsSource) February 15, 2017