Venezuela demands US apology over drug trafficking accusations
Comments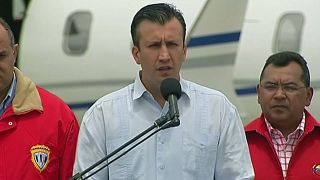 Venezuela's Vice President Tereck El Aissami has reacted angrily to being blacklisted by the US and the imposition of financial sanctions against him after Washington accused him of being a drug trafficker.
The Trump administration named Venezuela's vice-president an international drug trafficker on Monday https://t.co/1kPCkzGlrI

— New York Magazine (@NYMag) February 14, 2017
Within hours President Nicolas Maduro declared El Aissami had his full support.
In a statement Maduro revealed he had summoned the top US diplomat in Venezuela to explain the illegal decision to sanction his vice president and to demand an apology and a retraction of the accusations.
In the past Maduro has accused the US of attempting to undermine his administration and topple him from power.
El Aissami was appointed last month as Maduro's right-hand man and was entrusted with key powers normally held by the president such as determining ministerial budgets.
But now he has been added to an expanding US sanctions list for allegedly facilitating narcotic shipments to Mexico and Colombia.
#Maduro should apologize for destroying his country – #Venezuela demands apology for #Drug sanctions https://t.co/2hpnKk8SCv via YahooNews</a></p>&mdash; Thomas Taschinger (PoliticalTom) February 14, 2017