Concerns grow over Pyongyang's weapons capabilities
Comments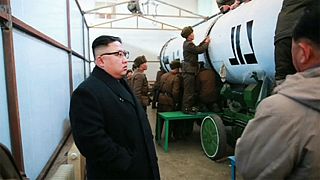 The ballistic missile launched on Sunday (Feb 12) by North Korea has a range of more than 2,000 kilometres according to South Korea's intelligence agency.
If confirmed it means the nuclear armed nation may have advanced further than previously thought in weapons technology.
At a special meeting of the UN Security Council, Sunday's unarmed missile test was roundly condemned.
Ukraine's permanent representative to the UN and current President of the Security Council, Volodymyr Yelchenko delivered a post session statement.
"Such activities contribute to the DPRK's development of nuclear weapons delivery systems and increase tension. The members of the Council further regretted that the DPRK is diverting resources to the pursuit of ballistic missiles while DPRK citizens have great unmet needs."
North Korea is already the target of international sanctions, which the UN said it would redouble efforts to enforce.
President Trump has described the isolated nation as a" big problem".
North Korea advances goal of targeting U.S. with long-distance missile https://t.co/sbyNr4CgU1

— Wall Street Journal (@WSJ) February 14, 2017
North and South Korea are technically still at war because their 1950-1953 conflict ended in a truce, not a peace treaty. The North regularly threatens to destroy the South and the South's main ally, the United States.