Romanian protesters call on EU for help
Comments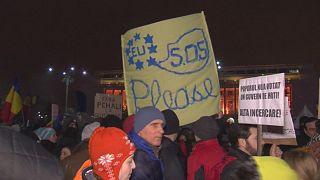 There is no let-up in the popular protests in Romania, where people are sick and tired of the corruption and thirsty for the EU's democratic values to be upheld.
The protesters are showing staying power on Victory Square in Bucharest, and looking west for help.
"Usually Romania is at the border of the European Union, but from time to time we are in the centre and this is a moment in which we are in the centre. So I think that the people are sharing the common values of the EU today, and I think it is a very strong message for everybody including our neighbours," says analyst Dan Ionescu.
An EU member since 2007, Romania, along with Bulgaria, is annually monitored by Brussels to enhance the fight against endemic corruption, through a Co-operation and Verification Mechanism. EU Commission President Jean-Claude Junker says he wants that to be lifted before the end of his mandate in 2019.
Thousands continue to protest against the government for decriminalizing corruption in #Romanian capital of Bucharest (Photo: Reuters) pic.twitter.com/oLutFo1rG4

—

CGTN

(@CGTNOfficial) 13 février 2017
Following Bucharest's decision to ease its anti-corruption measures the European Commission was very critical and it called on the government not to go back on its anti-corruption pledges. That is not enough for some in the square.
"We feel encouraged a little bit but we all would like to see more than just words. And I'm not sure how they can intervene in Romania because right now the politicians from Romania are telling us that they do not want the EU to come to Romania and their rhetoric is based on nationalism, and that Romania should go as far as possible from the EU. And we are against this," says fiscal consultant Bogdan.
Ordinary Romanians have made the first move, but it is an uphill struggle.
"We want the European Union to help us with this problem because we don't feel represented anymore in our government in our parliament, we don't have the representation anymore. Even if the EU wants to help us they stand aside, they leave us to deal with it by ourselves. We cannot deal with it, we cannot deal with it in this country anymore. In all the European Union that I have seen, I saw developed countries, I saw infrastructures, I saw hospitals, I want those things in my country, not in 10 years I want it now," says telecoms worker Alexandro.
They are bolstered by past successes. In 2013 people power put paid to a gold mine scheme in a protected zone in Transylvania, and in 2015 the government fell after popular anger at the deaths of 64 people in a fire at a Bucharest nightclub.
#Romanian protester: "I am attending History class". #romanianprotestspic.twitter.com/Z45akMErdv

— Paul Ivan (@paul2ivan) 4 février 2017