Switzerland votes to ease citizenship rules
Comments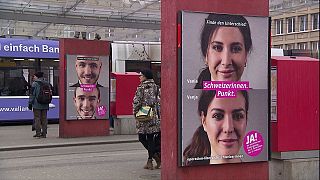 Swiss voters have approved a relaxation of their country's citizenship rules, dismissing suggestions from the far-right that the move could pose a security threat.
In a referendum on Sunday, they backed a proposal to simplify naturalisation for third-generation immigrants.
That means those born in Switzerland whose grandparents moved there – many of them from Italy – will have an easier route to gaining nationality.
Under the current system, they had faced a lengthy and often expensive procedure.
Swiss government calls on young 3rd generation immigrants to "use the opportunity" voters gave them today https://t.co/1OjHQCnkCQpic.twitter.com/QQr93JpK7b

— swissinfo.ch (@swissinfo_en) 12 février 2017
Around a quarter of Switzerland's population is foreign.
The change was backed by the government and parliament. But far-right parties argued that it would pose a security risk and raised the spectre of so-called "Islamisation" with provocative posters showing a burqa-clad woman.
In a separate referendum on Sunday, Swiss voters rejected plans to overhaul the corporate tax system.