Swiss vote on citizenship rights and tax breaks
Comments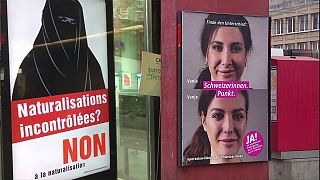 The people of Switzerland are voting on Sunday in a referendum on relaxing strict citizenship rules.
The ballot is intended to simplify and speed up the procedure of naturalisation for people who were born in country but who do not automatically qualify for citizenship.
It applies to around 25,000 people whose families moved to Switzerland decades ago. They are mostly Italians but also from other countries including Turkey and the Balkans.
The so-called "third-generation foreigners" currently have to go through the same procedure as immigrants, including tests and interviews by officials.
A majority of the Swiss parliament supports the changes, but opponents have raised the spectre of "Islamisation" with provocative posters – one showing the outline of a woman in a burka with the words "Unrestricted naturalisation? NO".
The populist Swiss People's Party has said there has been too much "mass naturalization" in recent years, claiming people have been let in "who are not integrated".
An even more provocative image appeared on the website of the party's youth wing. It shows the silhouette of a man holding a rifle and the line "Islamists with a Swiss passport?"
Opinion polls show the changes are likely to be approved. Many Swiss had already used postal votes over the last three weeks.
Swiss vote on citizenship after anti-Muslim campaign AJEnglish</a> <a href="https://twitter.com/hashtag/switzerland?src=hash">#switzerland</a><br> <a href="https://t.co/w0nF8S0u2m">https://t.co/w0nF8S0u2m</a></p>&mdash; Grahame Lucas (GrahameLucas) February 12, 2017
Tax breaks
Also on Sunday, Swiss voters clearly rejected plans to overhaul the country's corporate tax system, projections by broadcaster SRF showed.
It was a setback for government efforts to abolish low tax rates for thousands of multinational firms while encouraging them to stay.
Most Swiss recognise the country needs tax reform to avoid being blacklisted as a low-tax pariah. But new measures proposed to help companies offset the loss of their special status breaks had created deep divisions.
SRF said voters appeared to have rejected the tax plans by about 60 percent to 40 percent.
The long-standing tax breaks have attracted thousands of companies to Switzerland.
Opponents had said the reforms overall would lead to lower tax revenue, and feared the public will bear the brunt through cuts in public services or higher personal taxes.