Volunteers help refloat whales stranded in New Zealand
Comments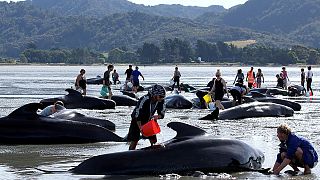 Hundreds of volunteers have been helping to refloat whales in New Zealand's Golden Bay.
Around 120 were put back out to sea, after one of the country's largest recorded mass strandings.
"Very quickly this tide has come racing in and now we're all up to our knees, some people up to their waists in water and we're starting to get a bit of floating happening," explained Amanda Harvey, from the Department of Conservation in Golden Bay, amid the rescue effort.
"We're just helping assist the whales with their breathing until the water gets deep enough so that they can swim."
Hundreds of pilot whales die after beaching in New Zealand https://t.co/QMhWpNXWtNpic.twitter.com/6fKUlU4VCO

— The New York Times (@nytimes) 10 February 2017
Not all of those stranded survived, with some 300 carcasses littering the beach.
And volunteers are keeping a close eye on those back in the water, with a risk of them getting into trouble again.
HUGETHANKYOU to all the amazing people in #NewZealand saving the beached whales…please keep up your efforts.

— Melissa Ponzio (@MelissaPonzio1) 11 February 2017