Italy: Clashes at protest rally against far-right
Comments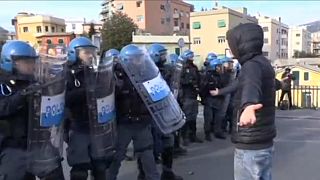 Tension flared in Italy on Saturday on the fringe of a largely-peaceful demonstration against a meeting of European far-right political groups.
Left-wing activists clashed with police amid ugly scenes on the streets of Genoa in the north.
They waved banners reading, "Genoa anti-fascist, free city, defend our country."
Local media said around 1,000 protesters turned out.
The protesters were trying to stop a gathering organised by hardline Italian group Forza Nuova.
Despite the unrest, it went ahead as planned. Those attending included Udo Voigt, a European lawmaker from Germany's far-right National Democratic Party, former leader of the British National Party Nick Griffin, and representatives of Romanian and French far-right movements.
<br:
with Reuters