Clashes in Paris suburb after 'police rape' of young man
Comments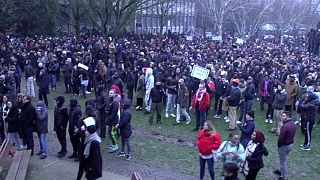 Clashes have erupted in a Paris suburb, as anger boils over allegations that a young black man was raped with a baton and beaten as police detained him.
The skirmishes happened during a protest against police violence in Bobigny, which had started off peacefully.
"I've been feeling hate. Since I heard about the case, I thought this couldn't be possible, it can't happen. To see the conclusion that this was an accident. It's not possible for this to have been an accident."
Around 2,000 people had reportedly gathered for the protest when hundreds of youths began throwing objects at police and burning nearby cars.
Riots and protests have taken place all over France in the past week, after the alleged violent arrest of the 22-year-old man in the Paris suburb of Aulnay-sous-Bois.
A hospital examination is said to have revealed wounds to his rectum, face and head.
Four police officers have been suspended pending an inquiry. One is being investigated for suspected rape. The others are facing accusations of using unnecessary violence.
The alleged victim has appealed for calm and his family say they trust the justice system to respond appropriately to the case.