Watch: Scuffles break out in South African parliament
Comments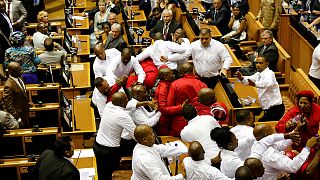 There were violent clashes inside South Africa's parliament on Thursday, (February 9), as members of the Economic Freedom Fighters, (EFF), were forcibly removed.
The leader of the EFF Julius Malema shouted at the country's President Jacob Zuma as he attempted to deliver his State of the Nation annual address.
The 74-year-old leader started speaking, then sat down as members of the far-left party kept up their questions for about an hour.
The violent clashes began when EFF members were eventually forcibly removed from the chamber by security guards.
Amid the turmoil, the main opposition Democratic Alliance party leader Mmusi Maimane also walked out of parliament, saying Zuma was unqualified to hold office and questioning the deployment of soldiers at parliament.
Zuma's popularity has fallen after a series of scandals. An anti-corruption watchdog called for a judicial inquiry in November into alleged influence-peddling in Zuma's government. Zuma has denied the allegations.