Zuma maintains suspense over fate as South African president
Comments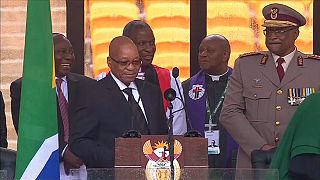 Pressure is mounting on South Africa's beleaguered president to resign.
Jacob Zuma had indicated he wanted a three to six month notice period.
After marathon talks, the ruling African National Congress party said he has to go, but it's divided as to when he should quit as head of state.
Leading members of the ANC want Zuma's deputy and new party leader, Cyril Ramaphosa, to replace him. Zuma's spokesman says he won't challenge his recall in the courts and will respond on Wednesday.
But many South Africans, tired of Zuma's scandal and corruption tainted leadership, want him to step aside now.
South Africa's cabinet has postponed its Wednesday meeting, usually chaired by Zuma, because of "developments taking place within the ruling party."