Holdener wins Alpine combined gold as compatriot Gut suffers season-ending injury
Comments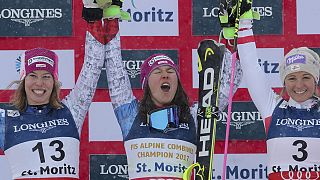 The Swiss team enjoyed mixed emotions on home snow at the World Championships in St Moritz on Friday.
Wendy Holdener and Michele Gisin took gold and silver for the host nation in the women's Alpine combined event, while Austria's Michaela Kirchgasser took the bronze.
But it was a bitter sweat day for Switzerland who lost Lara Gut to injury.
The defending overall World Cup champion was third after the downhill but ruptured the ACL in her left knee in practice for the slalom.
She was airlifted to hospital and will miss the rest of the campaign.