And also... Blowtorching barber, sleeping on the job in China and Denmark's burning question
Comments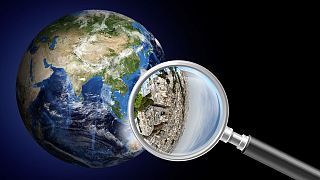 Every Friday journalists from euronews' various language teams choose a selection of stories from Europe and beyond which did not reach the international headlines.
Wonderful tonight: taking Kim Jong Un's brother to an Eric Clapton gig
Two years ago, Thae Yong Ho, North Korea's former deputy ambassador in London, received an unexpected phone call from the ruling Workers' Party Central Committee in Pyongyang telling him to get ready to receive a very important e-mail.
"Please go to the Albert Hall and buy four tickets," said the cryptic message from a disposable e-mail address designed to throw off Western intelligence agencies.
But the message wasn't code – Thae found out later he was being asked to take leader Kim Jong Un's brother to an Eric Clapton concert.
After receiving the e-mail, Thae said he searched online for upcoming gigs at London's Royal Albert Hall. One caught his eye: "Eric Clapton's 70th Birthday Celebration Tour".
"I realized, 'Ah! It must be Kim Jong Chol! In North Korea who else would be interested but Kim Jong Chol?'".
Kim Jong-chol in London – Der geheimnisvolle Kim-Bruder http://t.co/nGpCrC9QvMpic.twitter.com/A3Q5cmk1NT

—

BILD

Top-News (@BILD_TopNews) May 23, 2015
Not much is known about Kim Jong Chol, the elder brother of North Korean leader Kim Jong Un, except his love for the music of British guitarist Eric Clapton.
---
Burning question: Denmark asks for help over its sun-sensitive travellers
Help a Dane in the sun – that's the message of a quirky campaign aimed at reducing the risk of skin cancer.
The Danish Cancer Society has launched a string of videos aimed at foreign holiday destinations most popular with Danes: France, Greece, Italy, Spain and Thailand.
interesting campaign of "Danish Cancer Society" #helpadanehttps://t.co/dsQE1KIpbJ

— Emanuel Serra (@emanuelserra) February 5, 2017
The videos, spoken in the language of each country targeted, with English subtitles, urges locals to look out for pale-skinned Danes.
"We Danes love your country, but there is a problem," Mr Bertelsen says. "The strong sun is harmful to our delicate skin and every day a Dane dies from skin cancer. We know you have a lot on your plate, but we respectfully ask for your support. Help a Dane in the sun."
Denmark has one of the highest cancer rates in the world.
France
Spain
Italy
Greece
Thailand
---
Ketchup on some sleep after the Super Bowl?
Food manufacturer Kraft Heinz has launched a petition calling for the Monday after the Super Bowl to be made into a national holiday.
The firm wants the Monday after the sporting extravaganza to become 'more of Sunday' – hence the hashtag #smunday – arguing millions of people call in sick anyway.
Its petition had attracted around 70,000 signatures, as of Thursday, February 9.
---
China officials punished for dozing in motivation meeting
Six officials in central China's Hubei province have been punished for dozing off in a meeting on how to motivate lazy bureaucrats, state media and the local government said. Pictures of the sleeping officials have received widespread coverage in Chinese media over the past two days, amid President Xi Jinping's sweeping crackdown on corruption, extravagance and dereliction of duty.
---
Hot new look: ​Gaza barber wields blowtorch
In Ramadan Odwan's barbershop in Gaza, hair isn't just blow-dried, it's blowtorch-dried.
"People have gone crazy about it, many people are curious to go through the experience and they are not afraid," he told Reuters. "People here love adventures."
Odwan, 37, is not the first stylist in the world to use flame to straighten hair, but his craft is unique in the Gaza Strip.
In his salon in the southern Gaza town of Rafah, Odwan applied what he described as a protective liquid coating to a customer's hair – he declined to disclose its contents – before aiming for the head and pressing the button on a small blowtorch.
"I control how long I apply fire, I keep it on and off for 10 seconds or 15 seconds. It is completely safe and I have not encountered any accident since I started it two months ago," Odwan added.
Odwan charges 20 shekels ($5.20) for a haircut and fire-straightening.
A barber for the past 18 years, he said part of the reason he uses the technique is to show that Palestinian barbers are as "professional as those out there around the world".
---
Uzbek farmers offered lemon trees and chickens
Uzbekistan's government plans to provide almost two million households with chickens and lemon trees so they can feed themselves and sell their produce, according to a draft document published for public discussion.
The cabinet plans to set up specialized companies that will first supply households with poultry and seedlings and then buy eggs and lemons to export them.
Uzbekistan's exports of fruit and vegetables, worth billions of dollars a year, are surging thanks to strong Russian demand, the government said last November, with the Central Asian country benefiting from Moscow's ban on imports from the West.
---
Quirky signs in Japan hope to tackle language barrier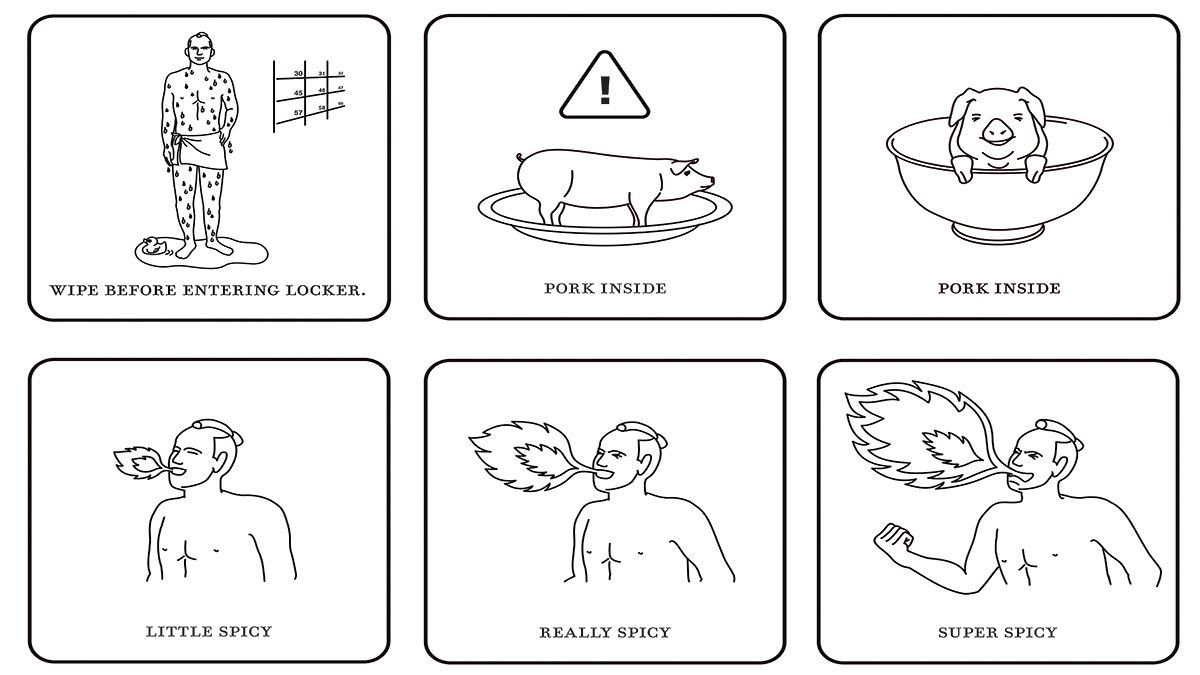 A new set of quirky signs have been published by a city in northern Japan to help foreign visitors adapt to local customs and food.
The signs, available for local businesses to download, are designed to help tourists understand how spicy particular food is, when a dish contains pork and customs at swimming pools.
They are in use in Morioka, a city off the typical itiniary for foreign tourists.
---
Boy, 6, caught driving parents' car on garage
CCTV
When Li found scratches on her car on February 4, little did she know that her youngest son was to blame.
However, upon closer inspection of her apartment building's garage, located in Southern China, her six-year-old son can be seen hopping into the vehicle, playing with the indicators and attempting some less-than-expert manoeuvres.
Thankfully, the child did not move the car far from its space and no-one was harmed in the incident.
Li commented that she hopes parents who have "naughty children" like hers see the experience as "a lesson".
---
Sources
- Wonderful tonight: taking Kim Jong Un's brother to an Eric Clapton gig
- Burning question: Denmark asks for help over its sun-sensitive travellers
- Ketchup on some sleep after the Super Bowl
- China officials punished for dozing in motivation meeting
- Hot new look: ​Gaza barber wields blowtorch
- Uzbek farmers offered lemon trees and chickens
- Quirky signs in Japan hope to tackle language barrier
- Boy, 6, caught driving parents' car on garage CCTV – Storyful