Watch: Romania's leaders 'appear' as convict cut-outs at Bucharest protest
Comments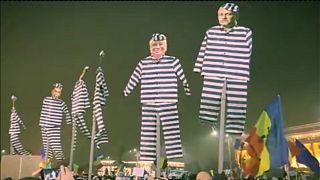 Large cut-outs of Romania's leaders dressed as convicts have appeared at protests in Bucharest.
There have been week-long demonstrations over changes to the criminal threshold in some corruption cases.
Critics say the changes would help the chief of the ruling PSD party, Liviu Dragnea, in an upcoming corruption case.
Protesters consider this criminal, hence the cut-outs.
The government had tried to push the changes through by emergency decree.
But this was withdrawn after huge protests.
Demonstrations have continued amid fears PSD will gets its way by pushing the law through parliament.