Explainer: Why Romanians are still protesting despite government climbdown
Comments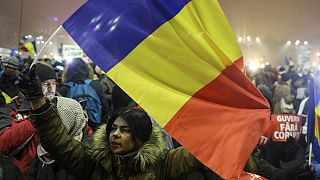 Romania has seen its biggest protests since the 1989 revolution after the new leftist government pushed through controversial anti-corruption reforms.
Huge demonstrations in Bucharest and other cities eventually forced the government to withdraw its emergency decree.
Here we explain why protests are continuing, despite the climbdown, and what prompted so many people onto the streets in the first place.
What were the protests originally about?
The social democrat (PSD) government announced a new decree that would have decriminalised some corruption offences (abuse of office) – ones that cause less than 44,000 euros of financial damage.
Laura Stefan, an anti-corruption specialist from Expert Forum, told Euronews the changes were designed to help PSD president Liviu Dragnea, who has been charged with abuse of office. Dragnea has been convicted of electoral fraud.
A draft bill was also approved granting prison pardons to around 2,500 convicts.
Did the protesters win any concessions?
Yes. After less than a week of demonstrations, which, on Sunday, saw around 250,000 people gather in front of government offices in Bucharest, the government announced a climbdown.
It won't change the draft bill on prison pardons, which is going through parliament.
So why are people still on the streets?
While the emergency decree was withdrawn, the PSD could still get its way.
Dragnea told reporters on Monday the changes could still happen but they would go through parliament this time.
The fact the changes could still happen is why people are still on the streets, said Valentina-Andreea Dimulescu, a public policy researcher at the Anticorrp project.
"People are still protesting because there is still a sense of deep distrust towards the present government," she told Euronews. "The fact the justice minister [ Florin Iordache] was not sacked immediately after the ordinance [emergency decree] was cancelled again infuriated some of them.
"Although the prime minister [Sorin Grindeanu] gave signals that he will sack Iordache – or that he will resign – people want to see him and the prime minister gone."
Diana Margarit, a lecturer in political science at Alexandru Ioan Cuza University in Romania, said: "Romanians are still on the streets because they doubt the good intentions of the government and fear that the PSD and ALDE coalition will not give up its intentions to protect corrupt politicians.
"Protesters are still expecting the government to resign because they are convinced that the way it behaved after only one month since the elections will characterise its entire four-year mandate."
Will there be fresh elections?
Romania's social democrats (PSD) swept back into power with a strong majority in December, on a ticket of higher wages and pensions.
Dimulescu said there had been calls for fresh elections, but protesters are now instead calling for a new government.
"The government has no reason to resign, it was legitimately elected," Dragnea told reporters. "As long as this tense state continues in Romania, no one has anything to gain."
Have the protesters lost credibility?
Yes, on government-friendly television channels, according to Romanian political analyst Radu Magdin.
"But on other channels of communications, they are viewed as okay, particularly since a lot of influencers are supporting them," he added.
"Credibility will be lost in case of a scenario of violence or in case they start looking totally unreasonable: namely if people feel there is no longer a case for protesting."
Around 250,000 protested on Sunday night, 25,000 on Monday, dropping to 5,000 in Bucharest on Tuesday, reported Reuters.