'Mad Max' Stockl races into record books again
Comments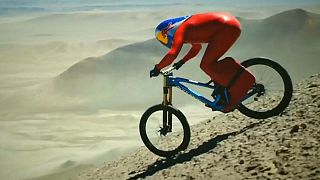 Getting into the record books is often a very hard slog, just ask Austrian speed cyclist Markus Stockl.
The 43-year-old had quite the hike just to get to the starting point of his latest attempt.
After reaching a 1,200-metre mountain summit in the Atacama desert in Chile, it was time to get suited and booted.
Stockl was now ready to try and break his own speed record on a standard mountain bike that he set in 2011 on the slopes of a volcano in Nicaragua.
With a 45 degree angle of descent the Atacama location was perfect.
Nicknamed 'Mad Max' for obvious reasons, Stockl put himself through eight runs without success, but the ninth proved to be the one.
In just 11 seconds he reached a record-breaking 167.6 kilometres per hour breaking his previous mark by just under three kilometres per hour.
Going, going, gone! Speed into the record books with Max Stöckl's V-Max project >> https://t.co/IhLcsLe7YRpic.twitter.com/mfvDiHmvhb

— Red Bull Bike (@redbullbike) February 9, 2017
Markus Stöckl put himself in the record books yet again breaking #MTB speed record > action clip for editorial use https://t.co/5vDK7rC0ERpic.twitter.com/NNlFp1siUX

— RedBullContentPool (@RBContentPool) February 9, 2017