Kenyan court blocks government closure of Dadaab refugee camp
Comments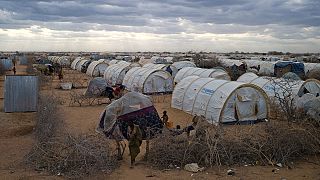 Plans to close this refugee camp in Kenya have been shelved, after a court said it would be unconstitutional.
A directive to close the camp and forcibly repatriate refugees was issued last year, but the high court said the decision was tantamount to an act of group persecution.
The government wanted to shut the camp, which houses mostly people who have fled unrest in neighbouring Somalia, as it says the complex has been used by Islamist militants as a recruiting ground.
"Being a government whose cardinal responsibility is first to Kenyans, we feel that this decision should be revoked," Eric Kiraithe, Kenya government spokesperson told the press. The government said it would appeal the decision.
Amnesty hailed the decision saying it was a historic day for refugees who faced huge risks if they were returned to Somalia.
BREAKING: Good news for refugees in #Dadaab. #Kenya High court reverses decision to close #Dadaab#IWelcomepic.twitter.com/ItxrXLeiQm

— AmnestyEasternAfrica (@AmnestyEARO) February 9, 2017
"The way the Kenya government went about dealing with their concerns with regards to security contravened the standards that are supposed to be followed where they are concerned that someone may no longer qualify for refugee status," Michelle Kagari, Deputy regional director at Amnesty International explained.
#Kenya: Closing of refugee camp in #Dadaab leaves many refugees to fear returning to Somalia https://t.co/Ix48Tcy2EMpic.twitter.com/EYuzSmvYyQ

— Doctors w/o Borders (@MSF_USA) February 8, 2017
At its peak, the Dadaab camp housed some 580,000 people, earning it the reputation as the world's largest refugee camp. UN officials say the number has dropped to an estimated 350,000.
#Kenya: We welcome the Kenyan High Court ruling declaring #Dadaab closure illegal. A very positive day for refugees! https://t.co/kSzJ91pmyQ

—

MSF

International (@MSF) February 9, 2017
Somalia's UN-backed government is currently battling an Islamist group al-Shabab to regain control of the country. The group periodically mounts deadly attack in Somalia and across the border in Kenya.