Islamic terror plot thwarted after raids, say German police
Comments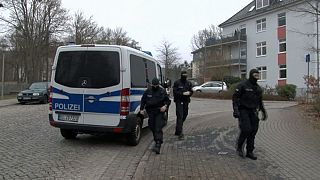 Police in Germany say they have arrested two Islamic extremists during dawn raids in the central city of Goettingen.
The men – a 27-year-old Algerian and a 23-year-old Nigerian – who have not been named, were detained as part of an investigation into a possible terror attack.
Officials say the two were well known to the authorities having long been part of the Salafist scene in the city.
The head of Goettingen police Uwe Luehrig said: ''During the raid we found weaponry which was bought without requiring a permit and had later been converted in order to fire live rounds of ammunition. We also found ammunition and flags of the Islamic State group, as well as a machete."
German authorities concerns are said to have grown last weekend after intelligence revealed that the suspects might launch an attack.
Police have not said how concrete and advanced their plans were, or what exactly they were plotting to do.