Red Cross halts Afghan operations after six staff die in suspected ISIL attack
Comments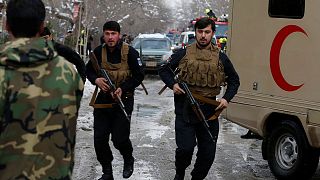 The Red Cross has put its aid activities across Afghanistan "on hold" after at least six of its staff were killed in a suspected ISIL attack.
They were reportedly shot dead while taking supplies to the north of the country hit by deadly snow storms. Two other workers are still missing, feared abducted.
The International Committee of the Red Cross expressed its shock over the killings, via twitter.
In a video message ICRC Director-General Yves Daccord also expressed his dismay over the workers' deaths.
"It was a region we knew very well. It's really very experienced colleagues and knowing that they have been killed, attacked directly is the worst possible news. And of course the shock is first to realise what it means for our actions in Afghanistan, what it means for Afghans, for the family, for the colleagues. I still can't believe that people would attack Red Cross and ICRC colleagues," Daccord said.
While there has been no immediate claim of responsibility, local government officials in Jowzjan province where the attack took place suspect ISIL fighters were behind the killings.
While the group has made only limited inroads into Afghanistan, it has been blamed for an increasing number of deadly attacks in the country.