Boston throws a giant party for Patriots
Comments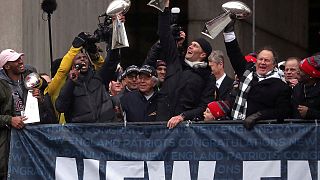 Boston has thrown a huge party to celebrate the homecoming of their newly-crowned NFL Superbowl champions, the New England Patriots.
The Pats stunned the nearly 50 million TV audience and American football fans everywhere with their comeback win, and it has lit up their home city.
The Patriots have now won five times since 2002 and 39-year-old quarterback Tom Brady has been there for every one of them; he is also a four-time Superbowl MVP.
It was Brady who inspired the team when they were as many as 25 points down to convince them that they could still win, and he clawed them back to a 34 to 28 overtime victory. Many fans wore goat masks to symbolise their hero – G.O.A.T, or Greatest Of All Time.
Boston has four major sports franchises, and they have brought the city 10 victory parades in the last 16 years.