Israeli Knesset votes in favour of legalising 4,000 settler homes
Comments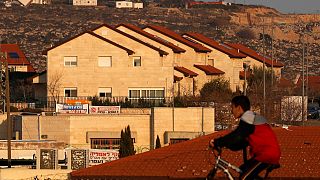 The Israeli parliament has approved a controversial bill to "legalise" some 4,000 settler homes built on privately owned Palestinian land in the occupied West Bank.
The law retrospectively supports the construction, with the original landowners being compensated either with money or alternative land even if they do not agree to give up their property.
Opponents have called the so-called "Regulation Bill" "theft" and "a land grab" and intend to take the legislation to Israel's Supreme Court.
Legal expert Professor Yael Ronon said the bill could be in conflict with international law but that is of little relevance.
"Under Israeli Constitutional law, Israeli law takes precedence over international law. So, arguing on the basis of international law may be not a very strong argument before the Supreme Court. That does not mean that it's not a violation, it just means that under the procedures of this Supreme Court that may not be a relevant argument. So the bill may pass the scrutiny of the Supreme Court while still being the violation of Israeli and international law."
Breaking: Israel passes bill to allow state to seize private Palestinian land for Jewish settlements in West Bank https://t.co/1Fx1VCAqUH

— Post World (@PostWorldNews) February 6, 2017
Israeli lawmakers both praise and slam Settlement law https://t.co/YuzD98bi4S#IsraelNewspic.twitter.com/uPchbZNl0z

— The Jerusalem Post (@Jerusalem_Post) February 6, 2017
The new law is the latest in a series of pro-settlement moves by Israel since the inauguration of US President Donald Trump. In the past fortnight some 6,000 new Jewish settlement homes have been announced in the occupied Palestinian territories.
The international community overwhelmingly opposes settlements and sees them as an obstacle to peace.
Netanyahu visit
Israeli Prime Minister Benjamin Netanyahu is currently visiting the UK for talks with Prime Minister Theresa May.
Before the Knesset vote a spokeswoman for May said the prime minister would tell Netanyahu that continued Israeli settlement activity in occupied lands captured in the 1967 Middle East War on which the Palestinians hope to create independent state undermines trust in the region.
Hundreds protest against Israel's illegal settlements as Theresa May rolls out the red carpet for Netanyahu: https://t.co/ZMKtKaKw9M

— Owen Jones (@OwenJones84) February 6, 2017