Romanian government officially repeals controversial graft decree
Comments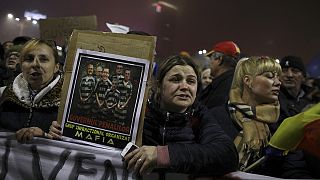 The Romanian government has officially repealed a decree decriminalising some corruption offences.
Prime Minister Sorin Grindeanu promised to scrap the contentious law after tens of thousands of people took to the streets for days of protests on a scale not seen since the fall of Communism in 1989.
While many welcomed the withdrawal of the decree, some are still calling for an end to the Social Democrat government.
Others have denounced the president as a traitor. Klaus Iohannis had called on the government to repeal the decree which, had it gone ahead, would have shielded hundreds of officials from justice.