Long queues in Paris as tourists flock back to the Louvre
Comments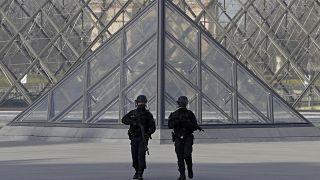 The iconic Louvre Museum in Paris re-opened its doors on Saturday, a day after a French soldier was wounded while tackling a machete-wielding attacker.
There were long queues outside the museum's famous pyramid entrance.
There is a heavy security presence.
Police and soldiers from Operation Sentinelle patrolled the Louvre grounds on Saturday.
The Louvre in Paris reopens a day after machete-wielding attacker was shot by soldiers. https://t.co/7et7SkG7zk

— The Associated Press (@AP) February 4, 2017
What tourists are saying
"I don't feel frightened at all. I feel good. It is a bit unusual to see so many heavily-armed police, but I am not bothered. In Barcelona, we also have police armed like this, to keep watch over tourist sites as well," said Spanish fine art student, Marta Montilla.
"I am kind of an unlucky guy, because I have been to Notre Dame two days ago, but I could not get inside either because there was some suspicious package right outside of it," said South Korean tourist Doo-hee Kim.
What happened on Friday?
Shouting Allahu Akbar (God is greatest), the 29-year-old Egyptian national struck one soldier and knocked another to the ground near the entrance to the museum on Friday.
He was shot in the abdomen.
French prosecutors believe Louvre attacker was Egyptian national who was in Paris on a tourist visa https://t.co/PrjCFpmnmq

—

BBC

Breaking News (@BBCBreaking) February 3, 2017
President Francois Hollande has described it as a "terrorist attack".
Speaking at a meeting of EU leaders in Malta, Hollande said "This operation undoubtedly prevented an attack whose terrorist nature leaves little doubt."
Hollande praises soldiers who shot attacker at Louvre – during #maltasummit news conference pic.twitter.com/tY459lArth

— eleanor biles (@ellybiles) February 3, 2017
What do we know about the alleged attacker?
Paris Prosecutor Francois Molins told reporters the following details:
Man identified as Abdullah Reda al-Hamamy by security sources in Cairo
Born Dakahlia, northeast of Cairo
Arrived in France on January 26
Wearing a black T-shirt with "death head" emblem
Paint spray cans found in his rucksack
No explosives found
Rented apartment searched in Paris
Officers trying to establish if he acted alone

Paris Louvre attacker was an Egyptian who arrived in France at the end of January – Reuters https://t.co/aVKIkI4y3d

— euronews (@euronews) February 3, 2017
Were there people inside the Louvre at the time?
Yes.
More than a thousand visitors, including many young children, were kept inside for an hour.
They were allowed out when the emergency was over.
The museum remained closed for the rest of Friday.
It re-opened Saturday morning, with long queues outside the iconic pyramid entrance.
Paris – a slow recovery
The French capital has been gradually recovering from a dip in foreign tourism caused by a series of bomb and shooting attacks in November, 2015.
A total of 130 people were killed in Paris during the attacks in November, 2015.
86 died in Nice last July, when a Tunisian national deliberately drove a lorry into the crowds on the seafront celebrating Bastille Day.
France is less than three months away from a presidential election in which security and fears of terrorism are among key issues.
Paris also submitted its official bid to host the 2024 Olympic Games on Friday with a launch show at the Eiffel Tower.