Austria: protesters in Vienna rally against fight-right ball
Comments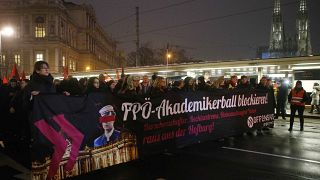 Around 3000 people demonstrated in Vienna on Friday night against a traditional right-wing ball.
The annual event – which takes place in the Austrian capital's historic Hofburg palace – was held under a heavy police presence, though the number of people protesting were said to be lower this year.
The Academics' Ball, which is part of the annual Viennese ball season, frequently attracts leading members of Austria's far-right Freedom Party.
The lower protester turnout is thought to be mainly down to December's presidential election, in which former Green leader, Alexander Van der Bellen, beat the far-right Freedom Party candidate Norbert Hofer.