Global calls for constraint amid new flare-ups in eastern Ukraine
Comments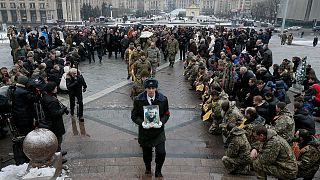 Ukraine and Russian-backed separatists are being urged to pull their forces back from front line positions in the east of the country amid new flare-ups in fighting.
The call comes from the UN, the OSCE and aid groups, as concern mounts about a humanitarian crisis.
.UNOCHA</a> is deeply concerned about the drastic deterioration of the security situation in eastern Ukraine: <a href="https://t.co/59ma35naHF">https://t.co/59ma35naHF</a> <a href="https://t.co/cICD5W8ipc">pic.twitter.com/cICD5W8ipc</a></p>&mdash; United Nations (UN) February 1, 2017
As situation deteriorates in east #Ukraine, thousands remain without electricity, water and heating. We're doing all we can to provide aid. https://t.co/7fL0zs2olT

—

ICRC

(@ICRC) February 3, 2017
The US Ambassador to the UN has condemned what she calls the aggressive actions of Russia.
In her first comments before UN Security Council, Nikki Haley blasts Russia's "aggressive actions" in east Ukraine. https://t.co/RhkuNApRYqpic.twitter.com/3t5OW5OxOO

—

ABC

News (@ABC) February 3, 2017
But the Foreign Ministry in Moscow claims Ukraine forces have violated the Geneva Convention, accusing Kiev of what it calls "barbarism".
"They are not taking any responsibility for what is happening, without any shame," said Foreign Ministry spokeswoman Maria Zakharova.
The Ukrainian President blamed Russia and the separatist fighters it supports for the latest flare-ups.
At least nine civilians on both sides have been killed since Sunday, with many more injured.
.UNReliefChief</a> calls for immediate <a href="https://twitter.com/hashtag/humanitarian?src=hash">#humanitarian</a> access to 3.8 million civilians in eastern <a href="https://twitter.com/hashtag/Ukraine?src=hash">#Ukraine</a>. <a href="https://t.co/3C3evJizoY">https://t.co/3C3evJizoY</a> <a href="https://t.co/fWrcj8Zhil">pic.twitter.com/fWrcj8Zhil</a></p>&mdash; UN News Centre (UN_News_Centre) February 3, 2017
"We haven't seen such intense military activity since last summer," said Ukrainian military spokesman Oleksandr Motuzyanyk.
"Combat operations of the enemy are reported along almost the entire conflict line in three different directions: Mariupol, Donetsk and Luhansk."
As the US criticised Russia at the UN, Republican Senator John McCain sent President Trump a letter to say that Russia was testing him with the actions in eastern Ukraine.
He called on Washington to give Kiev the help it needs to defend itself.
McCain says Russia testing U.S. in Ukraine, urges Trump to hit back https://t.co/3Kl98HAcSK via Reuters</a></p>&mdash; Seamus Kearney (seamuskearney_) February 3, 2017
Trump is sworn in, rockets fall on Ukraine – Washington Post editorial https://t.co/XDyV42pA6I

— Seamus Kearney (@seamuskearney_) February 3, 2017
Putin Testing Trump Early With Ukraine Attacks https://t.co/Udy6Ej1obV

— Seamus Kearney (@seamuskearney_) February 3, 2017