Watch: Lava gushes into Pacific Ocean, spews hot rocks into the air
Comments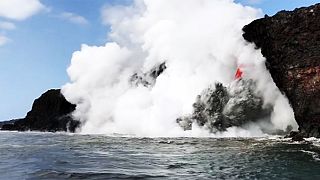 Lava from Hawaii's Kilauea volcano streams into the Pacific Ocean, creating a rare 'firehose' effect.
The phenomenon, which was seen on January 1, occurs when molten lava hits cold seawater, causing explosions that can shoot large chunks of hot rock into the air.
The flow opened up when 26-acre lava delta collapsed into the ocean on New Year's Eve.
Despite triggering explosions and giant waves in the area upon its creation, the stream currently poses no threat to nearby communities, although the USGS is cautioning visitors not to approach it.