Merkel attempts to smooth relations with Turkish leader
Comments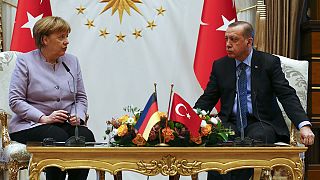 The German Chancellor is making her first visit to Turkey since a failed coup attempt there last July.
Angela Merkel is attempting to smooth over differences that have tested relations between the two NATO allies.
But she did stress the need to protect freedom of expression, amid concerns about the rounding up of thousands of people accused of being involved in the coup attempt.
"I have stated that the guilt must be individually identified," said Merkel.
"And we saw how the Turkish people defended democracy and democratic rule in Turkey.
"This is exactly why it is important in this critical phase to maintain freedom of expression."
Merkel also said that everything had to be done to ensure the separation of power in Turkey, but President Recep Tayyip Erdogan says there was no basis for such concern.
"There's a legislative branch, executive as well, and the same goes for judiciary," he said.
"There can't be a question about removing the separation of powers."
Erdogan has been criticised over a plan to change the constitution to give the presidency more powers.
A referendum is expected to be held on the issue in April.
Merkel said she also discussed the conflicts in Syria and Iraq with Erdogan and there was general agreement to work together on fighting terrorism.