Australian PM still believes Trump will honour "dumb" refugee deal
Comments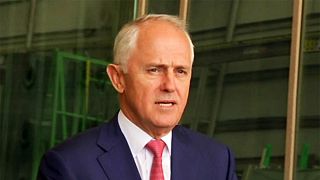 By all accounts it was a right dressing down for the Australian Prime Minister on the phone with President Trump.
Reports say the US President hung up less than half way through an expected hour-long conversation on Saturday and Trump told Malcolm Turnbull it was his "worst call by far" with a world leader.
Trump, Australian PM Turnbull reportedly have tense phone call over Muslim refugees https://t.co/6MlVEqUFNmpic.twitter.com/DG4S4jMADu

—

CBS

News (@CBSNews) February 2, 2017
Canberra might have expected a more pleasant, genial exchange, given Australia is a close ally and its prime minister had previously praised Trump.
But what would have particularly stung for the Australian leader was Trump slamming a refugee resettlement deal that Canberra thought was confirmed as "dumb" and needing further study.
A Tweet from the US President later incorrectly said that the deal between the two countries involved "thousands" of "illegal" migrants.
Trump tweet incorrectly labels refugees as "illegal" and wrongly says "thousands" re US-Australia refugee deal https://t.co/dUVsBQ6uR5

— Seamus Kearney (@seamuskearney_) February 2, 2017
Do you believe it? The Obama Administration agreed to take thousands of illegal immigrants from Australia. Why? I will study this dumb deal!

— Donald J. Trump (@realDonaldTrump) February 2, 2017
The people concerned actually number only 1250 and as they have official refugee status they cannot be considered illegal.
I thought Australian PM was a pal? No G'day, mate: On call with Australian leader, Trump badgers, brags & hangs up. https://t.co/pRzPS1DJq7

— Seamus Kearney (@seamuskearney_) February 2, 2017
Turnbull would only say their phone call was frank and candid, while denying reports that Trump abruptly hung up.
He has refused to comment on the row, but is not denying the call was heated.
The Australian Prime Minister later told reporters: "The President assured me that he would continue with – honour – the agreement we entered into with the Obama Administration with respect to refugee resettlement."
But Trump's Tweet does seem to contradict Turnbull's unwavering certainty about the refugee deal.
Trump hung up on a world leader. A psychologist says we should be worried https://t.co/P6ckhuWW4E

— The Independent (@Independent) February 2, 2017
A handy guide for Oz PM on dealing with Trump, who has "randomness & people skills of a tropical cyclone". https://t.co/DQW1VlEllY

— Seamus Kearney (@seamuskearney_) February 2, 2017
Dollar hits two-month low on rising doubts about Trump https://t.co/I7Em01ydny

— Wall Street Journal (@WSJ) February 2, 2017
It's 8:30AM: Trump has already alienated Australia, U.C. Berkeley & Threatened Iran on Twitter https://t.co/KB58cS9EG6

— Impeach Donald Trump (@Impeach_D_Trump) February 2, 2017