Trump hasn't forgiven the EU for putting a snail ahead of his business
Comments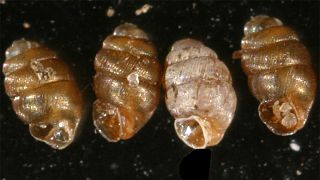 Asked about his views on the European Union, Donald Trump has a favourite anecdote.
He brought it up in an interview with British MP Michael Gove and again during a press conference with the UK prime minister Theresa May.
It's about the time when he tried to build a sea wall around a golf course he owned in Ireland.
"I had a very bad experience," he said, complaining that while Irish authorities backed his plan, the EU, which he refers to as "the consortium", used "environmental tricks" to try to block him.
In fact, his problems were down to the 2mm-long narrow-mouthed whorl snail, whose EU-protected habitat was threatened by the proposed construction.
In the end, Trump gave up on his plan on the grounds it would take too long to get the necessary permissions.
"As the New York Times put it": https://www.nytimes.com/2016/12/07/business/international/britain-ireland-trump-golf-snail.html : "The snail has prevailed."
Trump is open about his use of personal experiences to shape his policymaking.
He likes building walls, and he doesn't like environmental restrictions . As former acting Attorney General Sally Yates can testify , he also doesn't like to have his plans thwarted.
So it seems the incident in the Irish village of Doonbeg made a deep impression.
Whatever the motivations, Trump's animosity towards the EU goes deep: he has predicted that other countries will follow the UK in dropping their membership; threatened European businesses with import tariffs; and strongly criticised the bloc's immigration policy .
Donald Tusk, president of the EU council, listed the US president alongside China, Russia and radical Islam as threats to the Union.
The narrow-mouthed whorl snail may have a lot to answer for.