'NOlimpia' referendum initiative grows in Budapest
Comments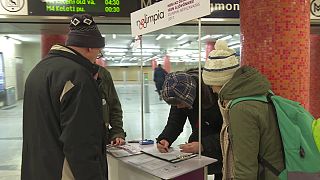 The price tag of staging a global multi-sport event always divides the citizens of the country or city involved.
Budapest, who have tabled a bid for the 2024 Olympics, is no different.
A referendum initiation called 'NOlimpia' has been organized by an openly anti-government movement called Momentum in order to scrap the city's plans to host the Games citing financial reasons.
But for Momentum scrapping the Olympics bid appears secondary to their main objective: "It is important for Momentum to become a political factor or power, '' says its president András Fekete-Győr. ''We have our own vision about the community that we imagine in Hungary, about the future of the country and we have to make this vision come true. If it happens on the streets, then in happens on the streets, if in the Parliament, then in the Parliament, we have to be able to grab both dimensions and prevail in both of them."
Back to the Olympics, and in order to trigger the referendum 138,000 signatures from Budapest residents are required by the deadline of 18 February.
As of Sunday, 90,000 signatures had been collected.
Political analyst Attila Juhasz said: "In a certain point the Olympics is important. But, in Budapest – and probably in the whole country – there is a wide layer of the society who is against this, and you can see it on the growing number of the signatures that it definitely has a mobilizing force."
With that said, according to a December nationwide opinion poll (performed by Kód Kft) 63 percent of the adult population of Hungary support the bid to host the games with many believing the event would drive tourism and economy forward and improve sport in the country.