Iranian singer Googoosh: Trump ban 'may stop me going home to US'
Comments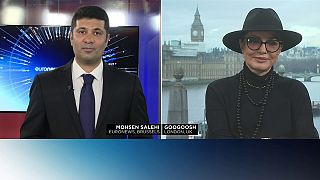 The Executive order by President Donald Trump to ban the entry of refugees and citizens from seven Muslim-majority countries to the United States, has affected the lives of thousands of people.
One of those whose life and work may be impacted by the order, is the superstar of Iranian music, Googoosh.
Born in 1950, she achieved fame which reached its peak towards the end of the 1970s. However her Persian and Turkish pop music fell foul of the Iran's 1979 Islamic revolution. She was banned from singing for two decades but since leaving Iran in 2000 has enjoyed a successful career abroad, including in the US where she now lives.
Euronews interviewed Googoosh – whose real name is Faegheh Atashin – from London.
Mohsen Salehi, euronews:
"You are a Green Card holder and you live in Los Angeles. You are going to the US tomorrow. Aren't you concerned that you might be detained or interrogated upon arrival?"
Googoosh:
"I have thought about it. Of course, I have been given assurances about this. In fact, I can say that I had exactly the same feeling 37 years ago in 1980 when I travelled to Tehran from London and I was expecting some unpleasant events and my expectations became a reality. With the Islamic regime coming to power, my artistic activities had to stop. I was banned from singing for 21 years. A few days ago, when I had a phone conversation with my immigration lawyer, I had the same old feeling again and I feared that I may again face problems at the airport. The United States is my second home and my fear is that I may again be banned from entry because I am Iranian and because I come from a Muslim family."
Euronews:
"How did you feel once you heard about Mr Trump's order?"
Googoosh:
"The same feeling that I may be driven out of my second home, too. If I am pushed out of my second home, as well, then I will have to find a place to stay. My Schengen visa will expire a few months time. I cannot go back to my first country either. If it happens again, I will be left standing alone in the middle of no man's land again."