Ex-UN boss Ban Ki-moon won't run for South Korea presidency
Comments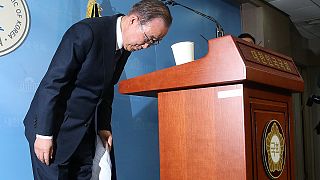 Former UN Secretary General Ban Ki-moon said on Wednesday that he would not be standing for the presidency of his native South Korea, despite once being considered the front-runner for the job.
It follows his less than successful return to Seoul last month, marred by a series of perceived PR gaffes and a scandal involving family members.
Speaking at an unscheduled news conference at parliament, after meeting leaders of conservative parties, Ban, 72, said it was 'meaningless' to join them and that he was disappointed at some MPs 'obsolete, narrow minded and selfish demeanour'.
His 'pure patriotism' and 'aspirations' meanwhile had been met with 'slander' and 'fake news'.
Ban Ki-moon drops out of South Korean presidential race https://t.co/PxwV28RAEf

— Wall Street Journal (@WSJ) 1 février 2017
"With all kinds of fake news, my intention for political change was nowhere to be seen and all that was left was grave scars to my family and myself, and to the honour of the UN, where I spent the past 10 years," he said.
Ban's high profile and clean image were expected to be assets as he returned to a nation reeling from the corruption scandal surrounding President Park Geun-hye who has been impeached by parliament and stripped of her powers while a court decides her fate. A ruling is expected as soon as later this month.
Yet Ban's ratings in opinion polls have nosedived.
The media leapt on a series of minor blunders, for instance when he took the airport express train instead of a limo on his return to South Korea, but didn't know how to buy a ticket.
Two days later, Ban visited a care home where he fed porridge to an old woman. He was criticised for wearing a bib when the old woman was not – and for feeding someone lying flat on their back.
Ban was South Korea's foreign minister from 2004 to 2006, helping to implement a policy of engagement with North Korea, before serving as United Nations chief from 2007-2016.
Reuters